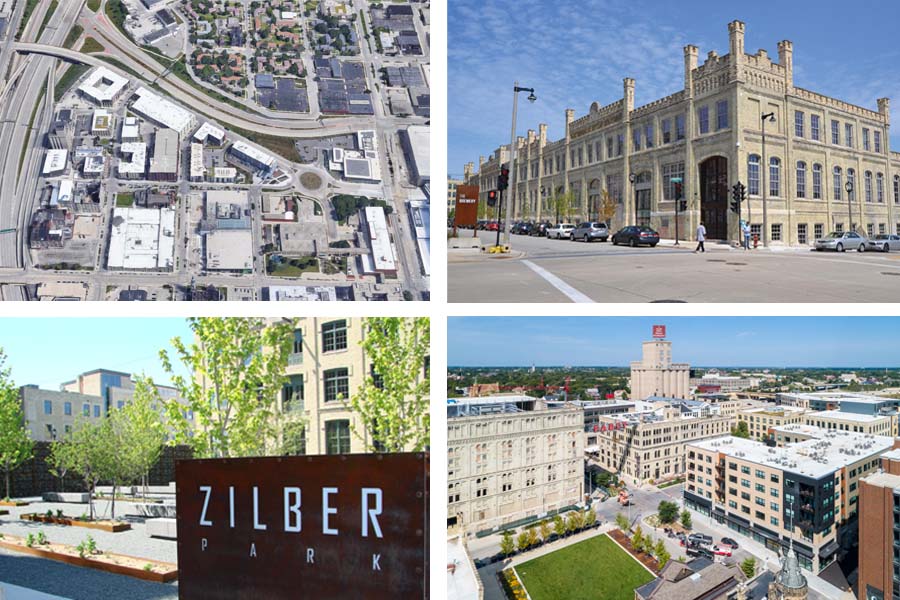 About The Brewery
After operating for more than 150 years, the Pabst Brewery closed in 1996 leaving a seven block area of downtown Milwaukee vacant. For over a decade historic structures deteriorated until real estate developer and philanthropist Joseph J. Zilber purchased the site in August 2006.
This historic complex covers more than 20 acres and contains over a dozen historic buildings ranging from a 6,000 square foot German Methodist church (1872) to the 250,000 square foot historic Bottling Building (1900). As the historic northwest gateway to downtown Milwaukee, Mr. Zilber's vision for this site was to redevelop the area into downtown Milwaukee's next great neighborhood built around the themes of historic preservation and sustainability. Mr. Zilber created the Brewery Project LLC and its affiliates to serve as the development's master developer, selling the shells of historic buildings and land sites to third party developers. By the end of 2006, Brewery Project LLC had entered into the largest public-private partnership in the City of Milwaukee's history and rezoned the property from manufacturing to mixed-use. Beginning in January 2007, Brewery Project LLC organized and managed the massive site preparation work necessary to prepare this area for significant development.
Since initial work began, over $300 million has been invested in The Brewery. The results include five apartment developments (three are market rate and two are "affordable"), a 400 bed luxury student residential property, three office buildings, two hotel properties, and two breweries. In addition, The Brewery is dedicated to education and the arts as the home of the University of Wisconsin-Milwaukee's School of Public Health and a building dedicated to promoting the ever growing film industry in Milwaukee. Three restaurants and two banquet halls help serve the hospitality needs of the neighborhood with more retail spaces coming soon. Two private parking areas have been developed to serve the neighborhood, including a 78 stall surface parking lot and a 908 stall, 8-level LEED Gold parking structure.
Although Mr. Zilber passed away in 2010 at the age of 92, his leadership can be seen in The Brewery's unprecedented commitment to sustainability. This is best reflected in The Brewery's 170 page Sustainability Guidelines and its designation as a LEED Platinum Neighborhood Development.
As the last developments open in 2018, Mr. Zilber's vision has become reality and an important piece of Milwaukee and American history has been preserved.